i've been a horrible blogger lately. this is due to:
1) i'm busy as hell and don't have time to ladypose in front of a camera
2) i've been relatively uninspired lately.
yesterday, however, i went to target and picked up a few things that i've been meaning to get for fall (replace black tights, a good blazer, knee-high stockings, new shoes...). i also got an online order in the mail that i'm only somewhat happy with and will have to return a few items. but overall, it was a good day for my wardrobe.
confession time: i'm posting this blog in class. thank you, journalism computer labs. i quickly took this shot while i was out the door, so apologies that it's not very exciting.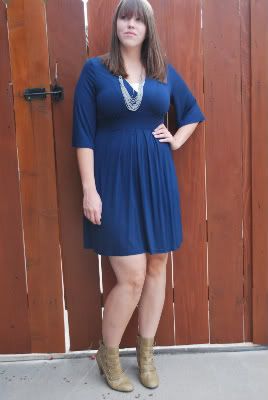 Dress: Forever21 (thrifted!)
Boots: Target
Necklace: Forever 21